Home » Danu Bali Tour » Tour 4
Tour 4
Tour Highlights
Price :
Adult : USD 30 per pax minimal 2 person
Child : (7 - 12 Years Old ) USD 15 / pax
From the hotel at 8.30
First stop we will see the very beautiful twin waterfall of Banyu Mala Next we break for buffet lunch in front of Beratan lake. After lunch We will see the famous Temple of the Danu Beratan Lake and enjoy of espectacular panoramic of Beratan Temple and lake Next we Continue to visit more southern point to see heritage of rice fields of UNESCO jatiluwih. Return to hotel.
Included :
English Speaking Driver
Parking and Toll fee
Petrol
Take Pick up,get drop off free to your hotel
Exluded :
Destination :
Banyumala Waterfall
Banyumala Waterfall is located on a plateau with rows of surrounding hills that make the surrounding landscape so beautiful. We will visit this waterfall during North Bali Tour. The expanse of lush and green forest turns out to save its own beauty. Not far from there you will find a hidden paradise in the form of a waterfall that is still beautiful and very natural. As far as the eye can see the plants spread between the rocks. This seems to separate the waterfall into two parts. The current is not as heavy as other waterfalls, but the distinctive feature of water falling through rocks between creeping plants has its own charm.
Unlun Danu Bratan Temple
Ulun Danu Beratan Temple is a temple dedicated to the goddess of the lake is Ida Batari Dewi Ulun Danu on the edge of a huge crater. The dominant shrines are Meru's (pagodas) dedicated to the lake goddess and the gods of Mount Batur and Mount Gunung Agung, the largest volcano in Bali. The temple located in the north Bali islands and was built in the 17th century in worship of the main Hindu trinity, Brahma-Vishnu-Shiva, as well as the lake goddess, Dewi Danu. The sight location on the Northern Bali islands and cool atmosphere of the Bali uplands have made the lake and this temple a favourite sightseeing and recreational spot as well as a frequently photographed site.
Jatiluwih Rice Terrace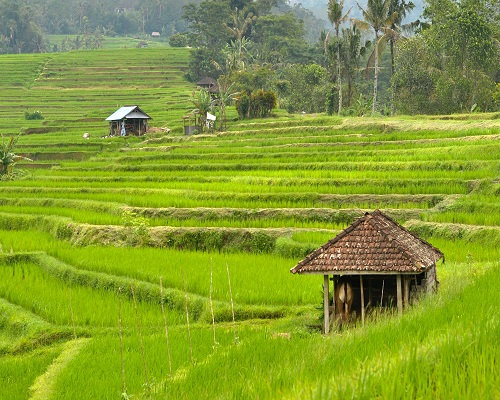 Jatiluwih Rice Terrace is a name of country side located in the plateau area with the mountain as a backdrop. Jatiluwih owns very beautiful panorama of rice terrace unfolding from the foot of mountain to the sea. The cool atmospheres surround the area of Jatiluwih with the good water irrigation that makes this countryside as ideal for agriculture development. The local paddies are planted in this place look typically of the high relative size plant if it is compared with other pre-eminent paddy planted by most farmers in Bali. Jatiluwih is surrounded by cool atmosphere because it is located in the height of 700 meters above sea level.
The Photos Of Tour 4
|| https://bes.hybridbooking.com/lovebalibiketours/booking/rsv/detail/LOB4129/Tour-4/?470520cc6beb7f3c166d1240ce245f41 ||
Booking Form
Contact Us ?