Home » Danu Bali Tour » Tour 2
Tour 2
Tour Highlights
Price :
Adult : USD 30 per pax minimal 2 person
Child : (7 - 12 Years Old ) USD 15 / pax
From the hotel at 8.30
Temple of purification, monkey forest The first stop we will see the monkey forest Ubud that was very familiar monkeys Second stage we will go to purification Temple of Tirta Empul, next break for lunch in front of rice paddies after lunch We will visiting coffee and cocoa plant and taste coffee on the jungle and We will see very famous rice fields of Tegallalang and enjoy the SWING on the rice fields and Back to hotel.
Included :
English Speaking Driver
Parking and Toll fee
Petrol
Take Pick up,get drop off free to your hotel
Exluded :
Destination :
Monkey Forest Ubud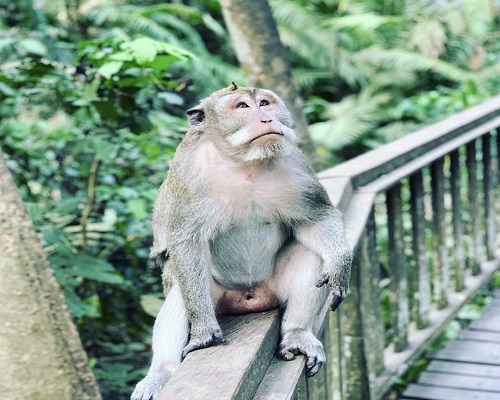 Ubud Monkey Forest also known as Ubud Wanara Wana is a nature reserve temple complex in Ubud and as a place of monkey forest sanctuary. Six visits during the full day ubud tours is to explore the beauty of ubud monkey forest by dwelt by some group of monkeys and other tropical animals. Ubud Monkey Forest itself own very important function of the continuity the monkey habitat in Bali. Meanwhile the Ubud local community own important role to keep this forest naturally in order to all wild animals able to live smoothly. It is important to treat the monkeys with respect as this forest is their home and you are a guest in it.
Tirta Empul Temple
Tirta Empul temple also known as the Holy Spring Temple located in Tampak Siring, for more thousand years the Balinese worshippers has been come to this temple for having the holy water to purified the body from Bad luck, local people believe if the water in this temple has power to clean body from negative things. a myth described if this sacred spring temple is build by God of Indra give to the dead warriors which been killed by Arrogant king Maya Denawa, the dead warrior come alive after sprang the water from this holy spring temple.
Coffee Plantation
Coffee Plantation or Bali Agrotourism is coffe farm where you can see varius of coffe planation and see the making of the famous animal coffe or known as a coffe luwak. in this place you can see various of plantation such as coffee arabica, coffee robusta, pineapple, balinesse snake fruit, and etc. expereince to see how to make Balinesse coffee, try the best of balinesse coffe or ginger tea with green view river valley. They sell variety of theirs original Balinese coffee products, herb oil and etc and see the civet cat the most expensive coffee maker, wellknown as Luwak, its produce "Coffee Luwak" and the process of the bean passing through the digestive tract of the civet chemically alters the proteins in the Luwak coffee bean to yield more complex and smooth flavors, not found in conventional coffees.
Tegalalang Rice Terrace and Swing
Tegallalang Rice Terraces in Ubud is famous for its beautiful scenes of rice paddies involving the subak (traditional Balinese cooperative irrigation system), which according to history, was passed down by a revered holy man named Rsi Markandeya in the eighth century. Tegallalang forms the three most splendid terraced landscapes in Ubud's shared region, with the others being in the villages of Pejeng and Campuhan.
The Photos Of Tour 2
|| https://bes.hybridbooking.com/lovebalibiketours/booking/rsv/detail/LOB0928/Tour-2/?470520cc6beb7f3c166d1240ce245f41 ||
Booking Form
Contact Us ?